DEBONAIRS
Sensual Massage | Auckland, NZ
COVID-19 Notes
Updated 25 March:
Please Note While NZ Is In Lockdown We Will Not Be Operating 
With the current situation worldwide, here's a short overview of what we do at present to keep you, our community and the team safe when you come in for break from the world.
As a private location, we have the luxury of being able to minimise all non-awesome human contact. By that we mean, apart from the quick formalities with our friendly receptionist, you will not need to cross paths with anyone other than your chosen masseuse. That's standard procedure by the way, but it's nice to be reassured. As per usual, if you still need extra comfort you can text us to make sure the coast is clear before you arrive.
If things get tighter, we will implement further changes in our booking system as well to allow for more time between sessions. We will update you accordingly!
For now, please take the time to read the below so you are in the know.
5 SIMPLE BEST PRACTICES WE FOLLOW & ASK YOU TO DO TOO  (STANDARD INDUSTRY PRACTICES ANYWAY)
Are you well enough to visit us? 
That's just common courtesy. We don't want your germs any more than you do! Rather reschedule your appointment and come back when you are fit and ready for our special brand of fun!
Please note: If you show up and are unwell we will still charge you for the session and turn you away.
Kill the germs! 
Our surfaces are wiped down with hospital grade disinfectant before and after every session. We use hand sanitiser, antibacterial wash and lots of bleach.
Hygiene is crucial for a good time (so wash super well in all your crevices).
Wash your hands thoroughly!
Please feel free to use the disinfectant in the rooms and wash your hands when needed in our bathrooms
If you have been travelling please observe government mandated isolation guidelines before coming to see us (or anyone else!!)
– The Debs Team xx
Focused mind, body and soul on your deep satisfaction.
IMMERSE YOURSELF IN THE WORLD OF HIGH CLASS SENSUALITY
We dedicate ourselves to personally delivering you some of New Zealand's most gorgeous and skilful nude massage girls.
We are exclusive and renowned for our high quality experiences.
 Enjoy our newly upgraded shower facilities and sample to our broad range of services designed to ensure you feel appreciated each visit.
Best of all, we have some gorgeous girls
Available Today: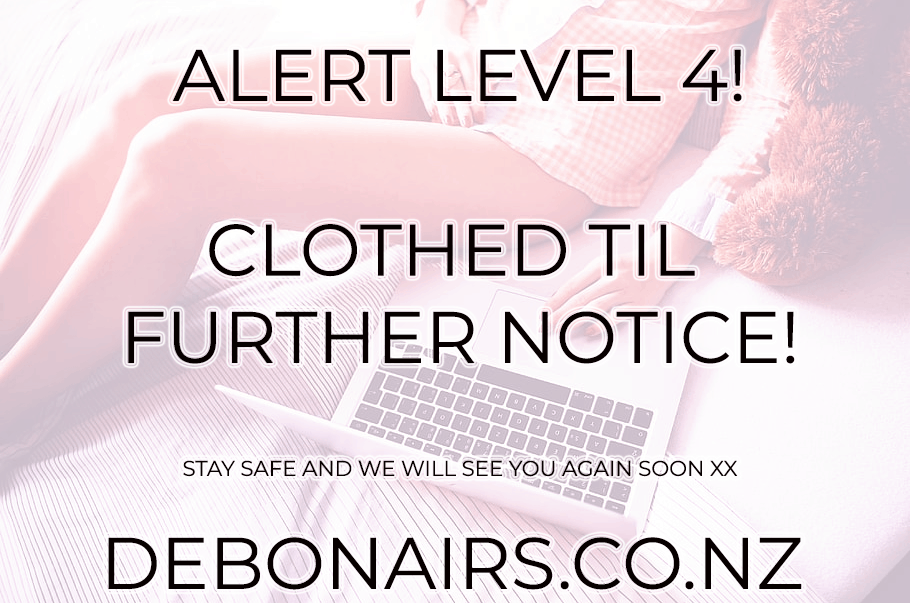 About Us
The sense of touch is extremely important for sexual invigoration. Sensual massage also provides health benefits, a sense of well being and an avenue of stress relief. Our fully nude massage will gratify your body and mind and allow you to fully relax in ways standard massage can not. Erotic stimulation is very healthy and can give you an endorphin high that will leave you feeling both validated and satisfied for hours if not days after.
Our Signature Massage is a deliciously smooth massage to stimulate and entice the senses provided by a beautiful girl of your choice. It promises erotic, nude breast sweeps and skin to skin body slides followed by hand relief to finish. You will be invited to gently explore your lady's body throughout your massage at no additional cost.
Those who respect the lady's boundaries tend to get more than expected from the girls so do keep this in mind.
Location
Debonairs is a located mere minutes from the Auckland CBD and Eden Park at 337 Dominion Road, Unit 4.
We are discretely located on the top floor of our building.
Our rooms are warm and inviting with privacy assured.
Music, clean linen and great shower facilities are all part of our indulgent service.
Our team of beauties are famous for their eroticism and style when it comes to the art of pleasing.
How To Book
We assure total privacy and discretion with each and every interaction.
Call, Text or Email, we remain professional and friendly with a non-judgemental attitude.
Our helpful receptionists will make that first and every phone call as efficient and painless as possible for you.
Your Privacy is 100% Respected

We Never Contact You First. We Do Not Send Promo Texts.

Phone/Text: 0211646703
Emails: Info@Debonairs.co.nz